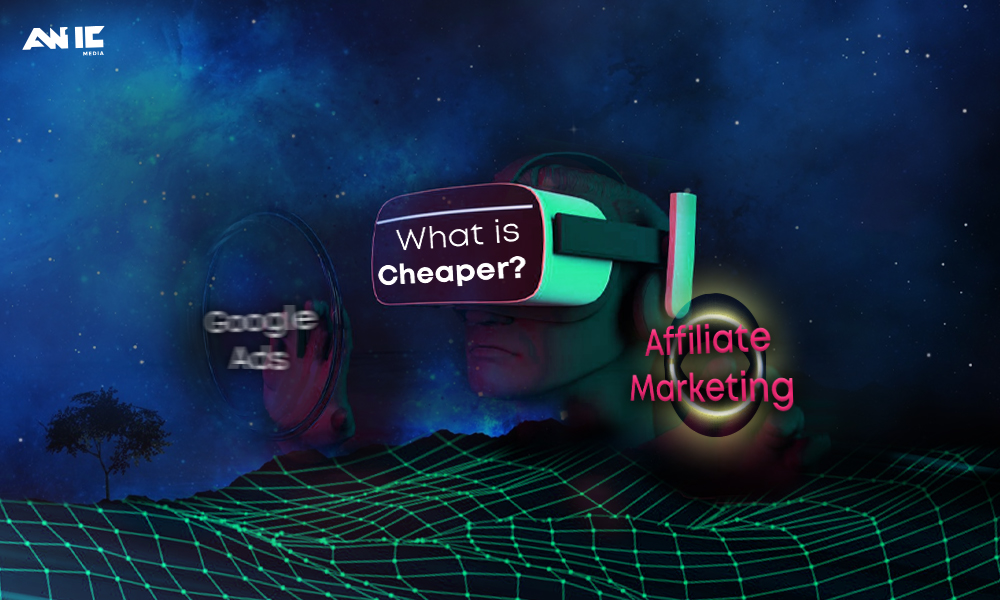 When you run a small business, it can be hard to find the right customers for your products and services. Also, you might not have the money, the tools, or the time to make and run your ads.
Affiliate marketing can be a good way to grow your small business without spending a lot of money. Compared to Google Ads, Affiliate marketing has few long-term risks and low costs to get started. With the help of affiliate marketers, you can reach more people and get a better return on your investment (ROI).
But, before we proceed further, let's understand the term affiliate marketing and why is it cheaper than Google Ads.
What is affiliate marketing?
Affiliate marketing is a kind of "Word of Mouth" marketing turned into a way to help small and even large businesses to reach their consumers. Let's understand this by a simple logic below.
If a friend you trust tells you about a product or service, you're more likely to buy it because you trust what they say. Affiliate marketing is all about doing this.
This performance-based marketing has shown to work well in SaaS business models, subscription-based services, and the product review industry. It is a risk-free way for businesses in many different fields to increase traffic, brand awareness, and sales.
How to find affiliates for your small business without burning a hole in your pocket?
An affiliate partner advertises your product or service through a variety of channels, like email, SMS, and push notifications. Only when a sale is made does the affiliate gets paid. Performance Marketing is another name for this type of marketing.
But with Google Ads, a marketer only pays Google when someone clicks on the ad. Let's look at an example to show how much more Affiliate Marketing costs than Google.
In the fashion business, a 10% affiliate fee is the norm. So, if an associate makes a sale worth $1,500, the fee is $150. The average cost per click (CPC) on Google is $ 0, and the conversion rate is 1%. Because of this, it costs $1000 per sale on Google. Clearly, this shows how cheap affiliate marketing can be for your small businesses.
Lets us now discuss how to find the right affiliates for your business.
Find blogs and websites that are specialized
Getting affiliates from blogs and websites that cater to a specific audience is a great way to reach that audience.
These blogs and websites already have readers who are likely to be in the same age group as the people you want to reach with your business. This means you'll get more targeted visitors and better recommendations. They are also skilled content developers who can come up with unique ways to market your products. Hence they are a great way to advertise.
Collaboration with influencers
Influencers include social media stars, industry experts, thought leaders, people who set trends, and niche bloggers who have a big impact on society. They range from famous people with a lot of followers to niche experts with only 1,000 to 100,000 followers.
There are many different kinds of influencers, so it should be easy to find one that fits your business.
Forums and business organizations
Affiliates can also be found through online groups and forums. You can get affiliates by telling people in groups or forums about your brand and showing them what your affiliate program offers.
Start with groups based on the industry. You might be able to find affiliates who are already familiar with and active in your field with the help of these groups.
Now we'll talk about the reasons why your small business should start this performance-based affiliate program and why is it chapter than other forms of advertising. Let's get started with this!
No need for more traffic in affiliate marketing 
Businesses usually favor affiliate marketing over Google AdSense or any other marketing source because "we don't need a lot of traffic on our website." Even if just a few thousand people visit a website, we can generate performance-based marketing for the product.
The greatest thing is that we can get a lot more people to see our stuff if we use affiliate marketing. We can not only give value to our audience by suggesting appropriate items, but we can also assist businesses in the process. So it's a win-win situation.
 You Have the Option to Promote "Relevant Products"
Google AdSense won't let you choose the ads that are best for your target audience, which means that your ads are probably annoying the people who read your blog. Affiliate marketing, on the other hand, lets you promote products that are relevant to your audience.
You might get more clicks if you advertise relevant products on your blog. So, even if you only get a small amount of traffic, you may be able to boost your reach to the right customers. That is why most businesses prefer affiliate marketing over Google Adsense.
Boost product recognition
 The objective of any business with an internet presence is to be discovered by as many customers as possible. Affiliates increase the visibility and reach of your brand by directing interested visitors to your website.
Since affiliates get paid a cut of what you make, they have a vested interest in seeing you succeed. So they are passionate representatives of the product you are selling to the customers.
If you can keep track of how your business works, you can make changes to how it works in the future. By collecting data through affiliate marketing tracking, companies can learn a lot about brands and aid in building credibility with new clients.
Boost the number of sales
Companies can increase conversions by making changes to their website, making their visuals more appealing, and studying and analyzing the huge amount of data to see which affiliates bring in the most money.
Social Proof For Your Brand
Getting your goods in front of millions of people will help you stand out for sure. But credibility is a very important issue. No one thinks that something is good just because the company that made it says it is.
Because of this, most shoppers look at online reviews before buying something. The value of your affiliate content partners doesn't come from giving your customers buy links, but from proving that your product is good, which is a key part of turning a shopper into a buyer.
If some company says that their new XYZ product is the best one yet, you might or might not believe them. But if a site you trust says that a product you're thinking about buying is great, you're much more likely to click the "buy" button.
Lessen your spending
 Affiliate marketing is a lot cheaper than advertising or other marketing methods. Because the program is performance-based, affiliates only get paid when they make a sale. Businesses figure out the commission structure ahead of time so they don't waste money on advertising that doesn't work.
Get more money back from what you invest (ROI)
 Most marketing and advertising campaigns may make it hard and uncertain to figure out the return on investment (ROI). The performance-based method of affiliate marketing is meant to make money. Businesses don't pay for potential buyers based on impressions or clicks. Instead, they pay for sales that happen.
This is one of the main reasons why small businesses want to use affiliates to market and sell their goods or services. By doing your marketing through an affiliate network, you gain influence and direct access to a receptive, highly focused audience that is more likely to buy from your brand.
Using SEO To Boost Your Product Image
Brands spend thousands of dollars to get their website on the first page of Google because they know that even a few positions in the rankings can mean hundreds or even millions of dollars in sales.
A Pay-Per-Click (PPC) Google ad campaign can help get your brand in front of customers, but it doesn't change the organic search results.
On the other hand, if you manage your affiliate marketing well, it can measurably help your Google ranking. For SEO purposes,  we have a "backlink" that is a link from another website to yours. The more backlinks you have, the better Google will rank your page.
So not only do your affiliates bring in sales, but they can also give your SEO campaign a boost.
Also, remember that ads disappear when you stop paying for them, but links you put on other websites should last as long as your affiliate does.
Different Payout Models
 With affiliate marketing, you can choose the types of rewards that work best for your business. You can sometimes use more than one affiliate program on the same website.
Pay-Per-Click (PPC): Affiliates get a commission based on how many times people click on their affiliate links.
Pay-per-sale (PPS) is when you give affiliates a cut of every sale that their links bring in.
Pay-per-lead, or PPL, means that affiliates get paid for each lead they bring in (typically an email address).
CPA: CPA, or cost per action, is the other most common setting. This fee is the same for each activity. This could be $10 for an email subscription, $20 for each phone call to a business (a "qualified lead"), or $100 for a sale.
In the CPA affiliate model, you get paid when someone clicks on your link and then does something else
Conclusion
Affiliate marketing is one of the best ways to get the word out about your small business. But like everything else in life, putting in place an affiliate program has both pros and cons. But the digital world is moving toward an "influencer model" where companies can reach a huge number of people for a low cost, build relationships with affiliates, and make more money.
Affiliate programs are a cheap way to reach out to potential customers as the cost of advertising goes up.